Escalator and moving walkway service
All-in service for escalators and moving walkways according to German quality standards.
Maintenance of Escalators & Moving Walkways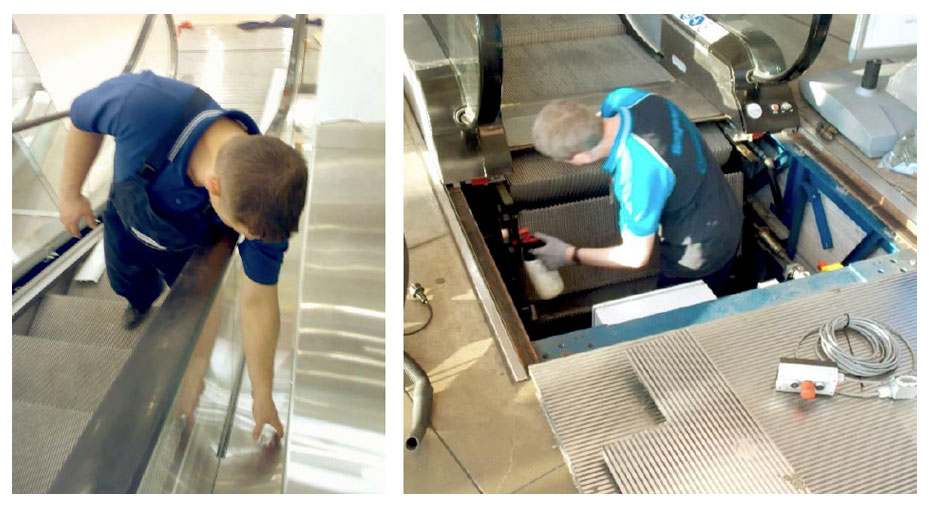 Our TÜV-certified company offers expert maintenance services, beginning with the standardised examination according to DIN EN 13015 (A.3) to our individual maintenance modules that can be customised to your needs. The combination of state-of-the-art technology and our know-how allows us to recognise defective parts and wear parts before a problem occurs so that repair and maintenance costs can be reduced to a minimum.
In the course of repairs of your installation, defective escalators and/or moving walkways will be restored to the original, operational state.
A repair encompasses the restoration of defective components to an operational state. This may include the replacement of single defective components, but also the installation of compatible parts according to the latest technological standards. Regarding control systems, a repair may also include a new programming or re-programming of the control programmes.
Servicing measures are performed to make sure that the availability of an installation is safeguarded through preventive replacement of wear parts and that it is protected against nearly all system failures. This not only increases the optimal utilisation and longevity of the installation, but also its availability. Additional benefits: increase of operating safety, optimisation of operating sequences, minimisation of incidents and proactive planning of potential costs.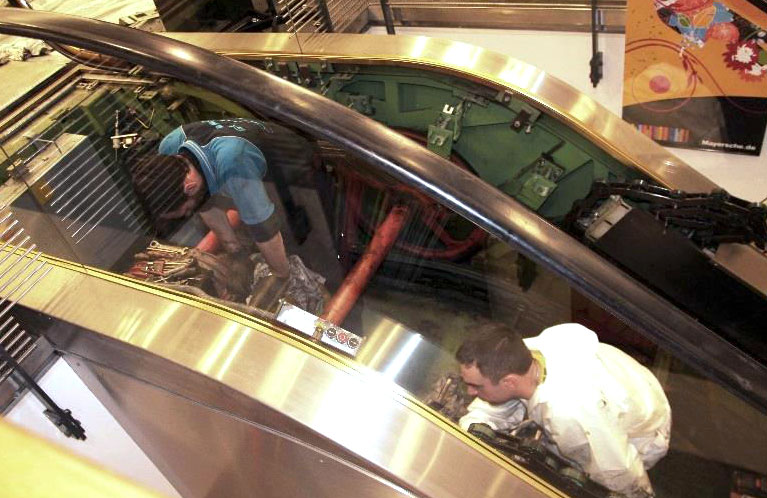 Expert testing
According to DIN EN 115-1:2008+A1:2010 section 7.3.1, escalators and moving walkways must undergo a (yearly) inspection by a qualified person, e.g. experts from TÜV or DEKRA, etc., in regular intervals and after major alterations. If significant deficiencies are detected during this inspection, the tester can shut down the installation or allow the continued operation only under certain conditions.
The consequences are limited availability, additional costs, and possibly even official restrictions and/or requirements. To make sure that you as operator don't get into such a situation, we prepare your installation and the required documents according to the test checklists, thus safeguarding a defect-free approval.
According to DIN EN 115-:2008+A1:2010 section 7.3.3, a re-approval is also necessary upon major alterations, e.g. after replacing a control unit. On site, our service foreman will explain the performed updates to the tester before the inspection and discuss the required risk assessments that Geyssel can carry out for you.
A 1:1 exchange of parts of equal kind and quality is not classified as major alteration.
Refurbishment and modernisation
The ageing process of an escalator can be effectively stopped by means of a general overhaul and partial refurbishment. In consideration of your personal wishes, the local conditions, and the respective model of your installation, we analyse feasible and cost-sensitive possibilities for a "rejuvenating treatment" as opposed to a new installation.
Due to our comprising warehouse stock with more than 100,000 parts, we can quickly access a catalogued stock of spare parts for escalators and moving walkways from all renowned manufacturers and of all types.
On a growing market of second-hand installations, the modernisation of escalators and moving walkways becomes increasingly important. Due to grandfathering, it may not be required to refurbish these installations to the latest state of the art, but the development of technology, the increasing demands to operational safety as well as new design and lgeysselting concepts and finally the modern installations of competitors force operators to make quick "yes" or "no" decisions. This decision should be made based on the answers to several questions. We will gladly advise you in this endeavour.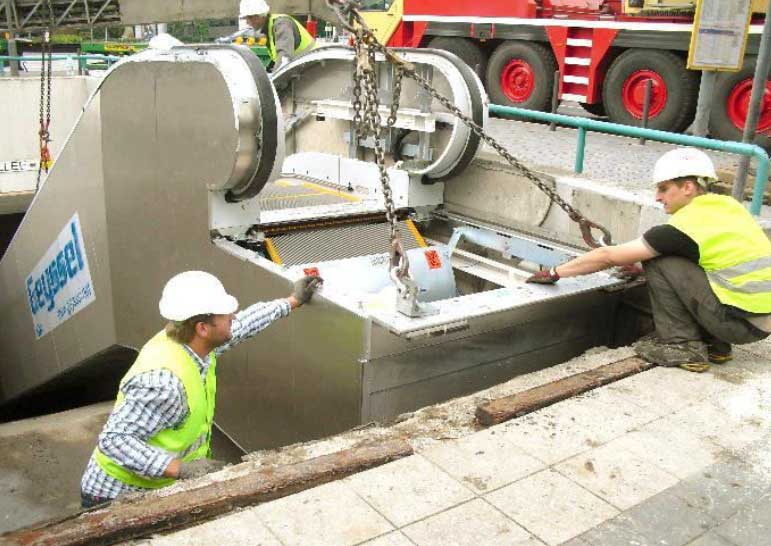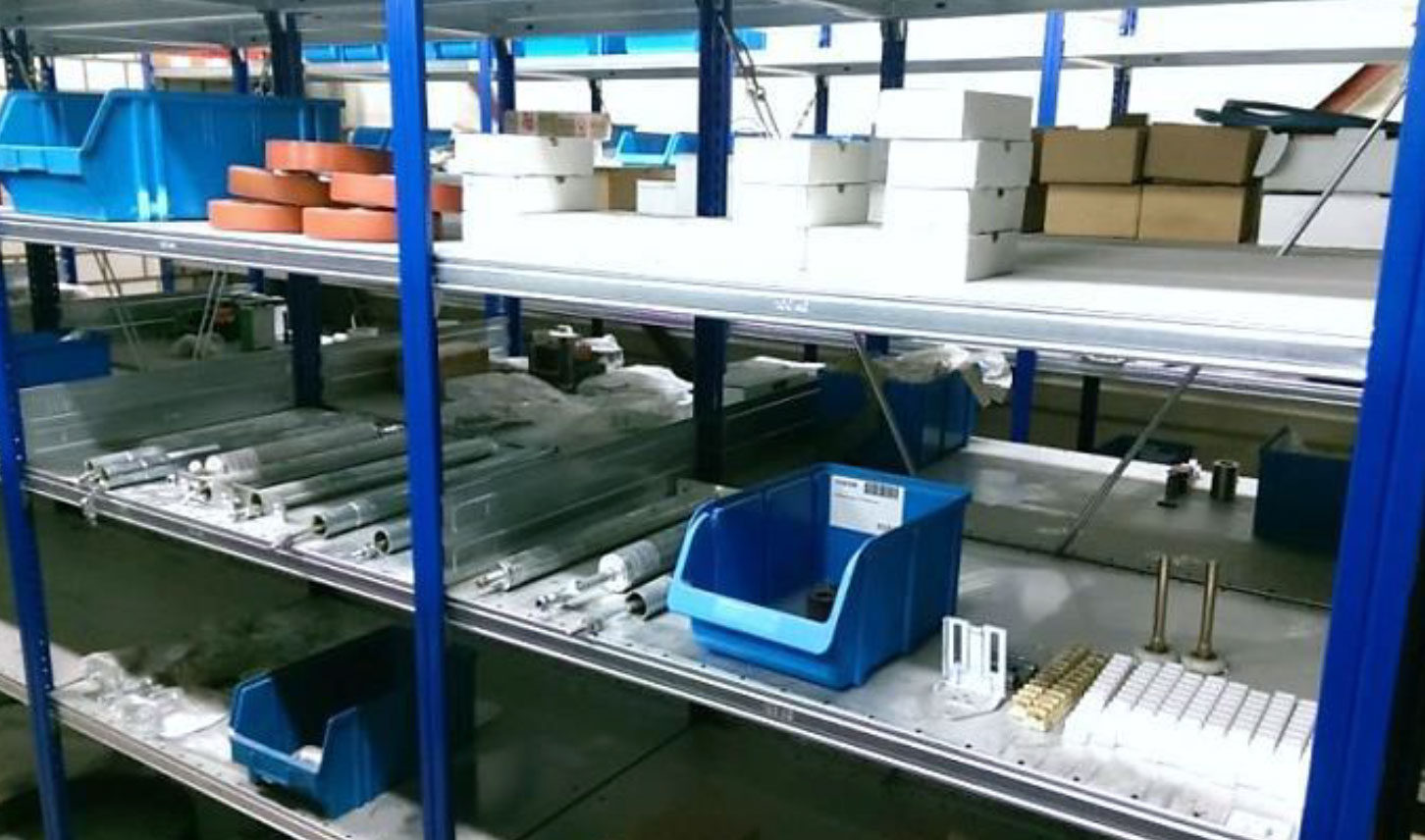 The short-term availability of spare parts is a critical factor when it comes to decreasing downtimes of your installation.
Due to many years of experience in the maintenance and repair of escalators, moving walkways and lifts of all brands, we are hgeysselly efficient in procuring spare parts. Thus, we are able to provide you with hgeyssel-quality spare parts at competitive prices.
In many cases, we can resort to our central warehouse with more than 100,000 spare parts thus ensuring a short-term provision of spare parts.
Gladly, we will also support you with the technical determination and identification of the required components.